Wedding Showcase
Monday 2nd January 2023
Recently engaged and looking for your dream Venue?
Join us for our Wedding Showcase at the Diamond Coast Hotel on Monday 2nd January 2023
Book your appointment now and discover the beauty, warmth, and elegance of a wedding at the award winning Diamond Coast Hotel! For over 15 years, our beautiful hotel has been the setting for many magical weddings and celebrations of love. Now we invite you to discover why so many couples have trusted us to manage their special day and create an unforgettable experience that will be remembered for many years.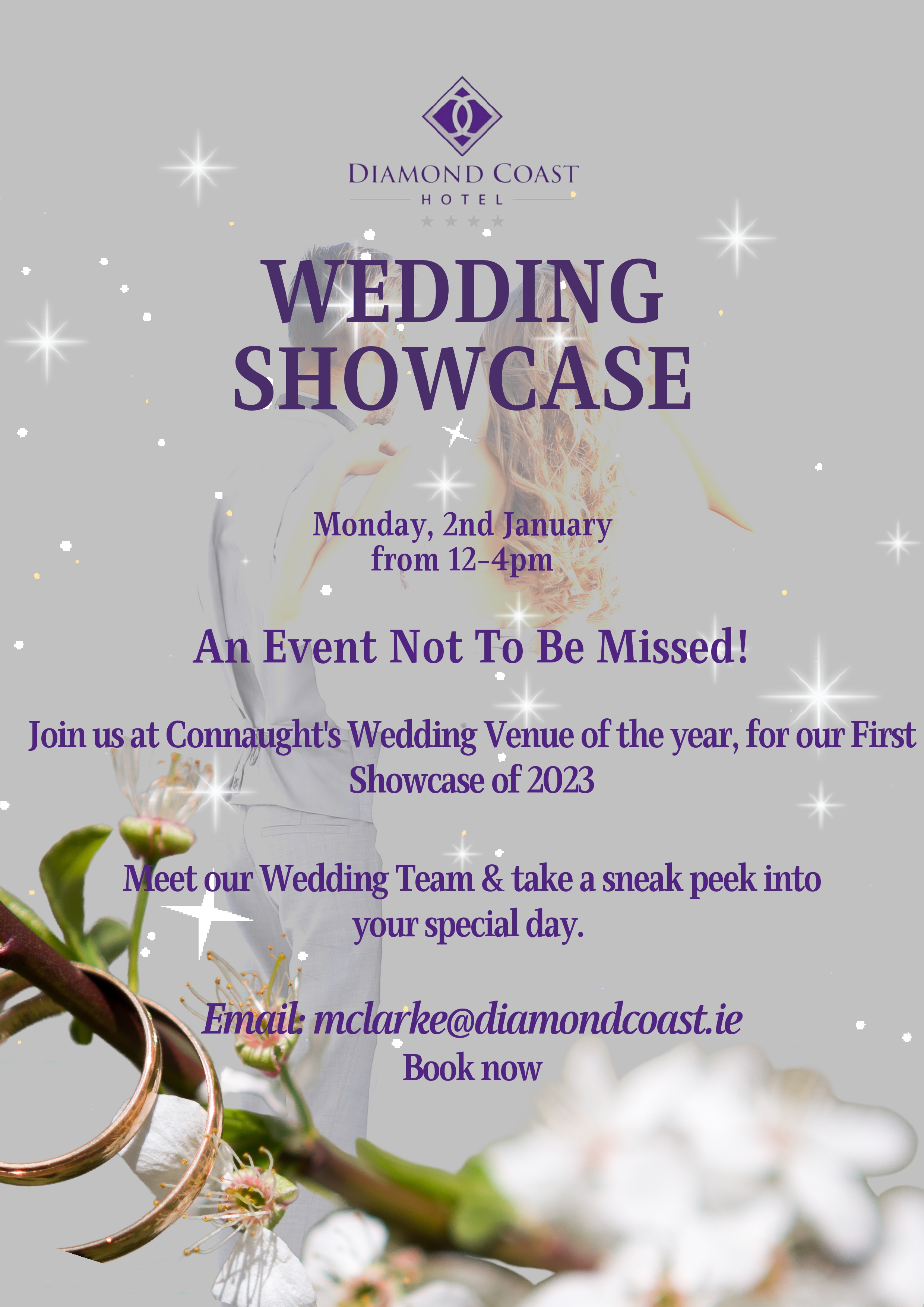 At our Wedding Showcase we invite you to take a tour with us and explore the romance and elegance of our newly refurbished hotel - the beautiful suites, stunning ballroom and first-class hospitality that will form a magical backdrop to your wedding day.
Meet our wonderful wedding team, dedicated to helping you create the day of your dreams. Be inspired by our Ballroom and Superior bedroom suites, beautifully arranged for the day so you can imagine how your wedding might look here. We are always happy to work with you to create a bespoke look, so chat to one of our wedding experts and explore your options to have your day done your way.
You will experience what it feels like to step into the foyer on your wedding day, with drinks on arrival! ,Visit the Ballroom, perfect for large wedding receptions, or intimate gatherings and view our civil ceremony suite  - an beautiful location to host your ceremony with your family and friends.
Discover our extensive guest accommodation, with a selection of comfortable and modern Double Rooms and Family Suites where your guests can kick back and relax after the celebrations!
Our Wedding Showcase is about introducing you to our wedding team and our wonderful facilities, with bespoke wedding arrangements prepared for the day so you can begin to imagine what your wedding would look like here. We hope by the end of the day you will be inspired by the passion of our wedding team to make your wedding with us uniquely yours!
Amazing offers will be available for couples who book on the day.
Monday, 2nd January, from 12pm to 4pm
Are you ready to discover the warmth and elegance of The Diamond Coast Hotel?
Call us at 0962600 or email Mary Clarke at mclarke@diamondcoast.ie to book your appointment